Sodium bentonite waterproofing blanket mat Geosynthetic Clay Liner GCL

Sodium Bentonite Geosynthetic Clay Liner GCL for waterproofing Geosynthetic Clay Liners are high performance needle punched environmental reinforced composites which combine two durable Woven Geotextile and Non Woven Geotextile outer layers with a uniform core of natural sodium bentonite clay to form a hydraulic barrier. For different projects,Geomembrane Geosynthetic Clay Linercan combine HDPE Geomembrane for better waterproof. When hydrated under a confining load, the bentonite swells to form a low permeability clay layer with the equivalent hydraulic protection of several feet of compacted clay. The excellent properties of tensile and peel strength make the products ideal for many projects.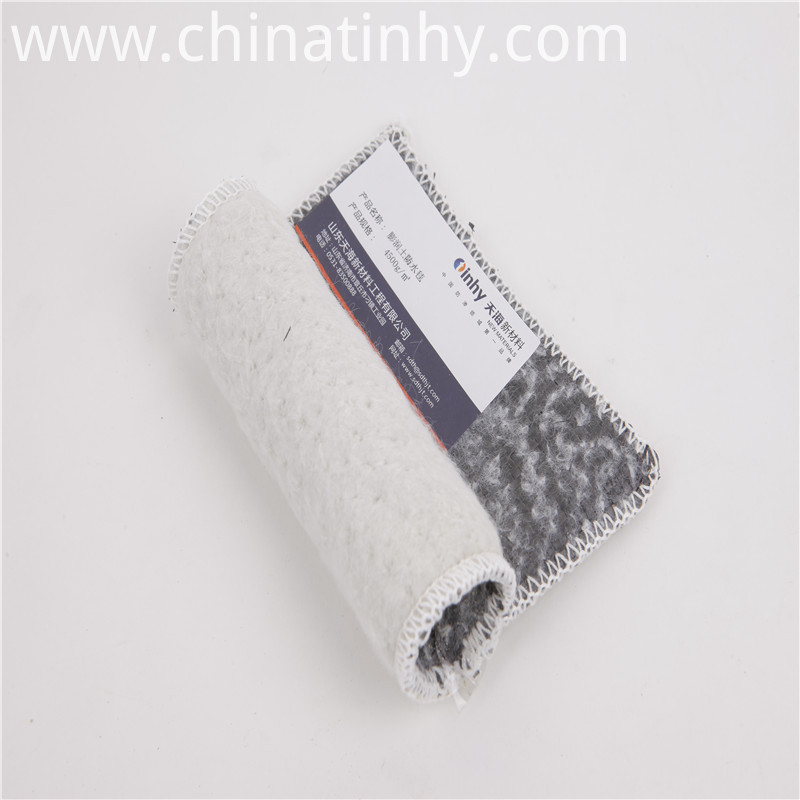 Geosynthetic Clay Liner Applications:
The water proof bentonite pad is mainly used in penetration-proof,airproof &separation in rubbish burying square,man-made lake,channel,pool,basement,subway,etc.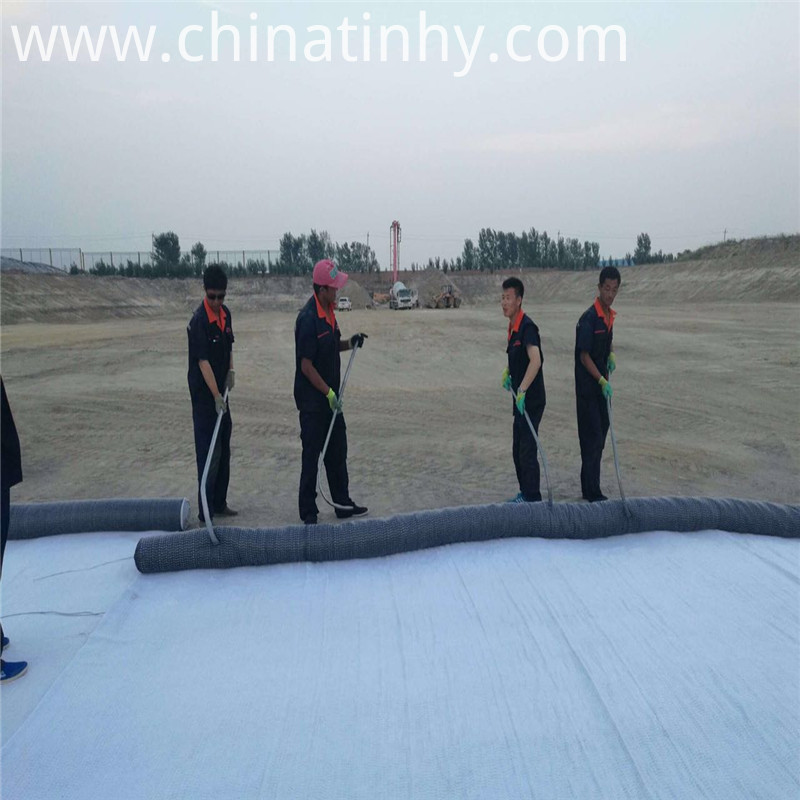 Geosynthetic Clay Liner Feature
Compactness: Waterproofing Geosynthetic Clay Liner under water pressure condition to form diaphragm with high density, thickness of about 3 mm, its permeability is & x 10 m/SEC 11 below, equivalent to 100 times the compactness of 30 cm thickness of clay, have very strong since the water retention performance.
Permanent waterproof performance: because sodium base bentonite is a natural inorganic material, even after a long time or the surrounding environment changes, also won't happen aging or corrosion phenomena, so the waterproof performance persistence.
Construction simple and short time limit: compared to other waterproofing materials, construction is relatively simple, don't need to be heated and paste.With bentonite powder and nails, washers, etc are connected and fixed.After construction does not need special inspection, if it is found that the waterproof defects and easy to maintenance.GCL is existing waterproof material in construction period of the shortest.
Integration: sodium base bentonite under water, the swelling capacity of 20~28 times, even if the concrete structure vibration and settlement, within the GCL bentonite can also repair the crack on the surface of the concrete within 2 mm.
Green: bentonite as natural inorganic material, non-toxic harmless to human body, no special effects to the environment, have good environmental performance.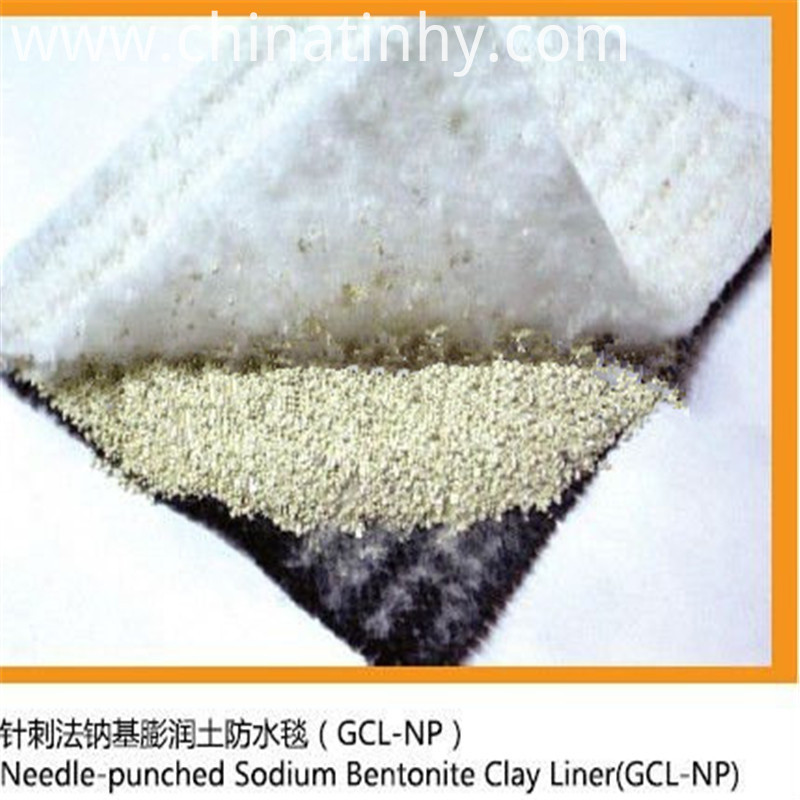 Geosynthetic Clay Liner Specification:
GCL specification

1

Item

Specification

GCL-NP

GCL-OF

GCL-AH

2

size deviation%

length

-1%

-1%

-1%

width

-1%

-1%

-1%

3

Unit weight g/m2

≥4000

≥4000

≥4000

4

Run voiume swelling bentonite mixture of ml/g

≥24

≥24

≥24

5

Tensile strength N/10cm

longitudinal

≥600

≥700

≥600

transverse

≥500

≥600

≥600

6

The maximum load elongation %

Longitudinal

≥10

≥10

≥8

Transverse

≥8

≥8

≥8

Peel strength N/10cm

≥40

≥40

7

CBR mullen bursting KN

≥1.5

≥2.0

≥1.0
Certificate: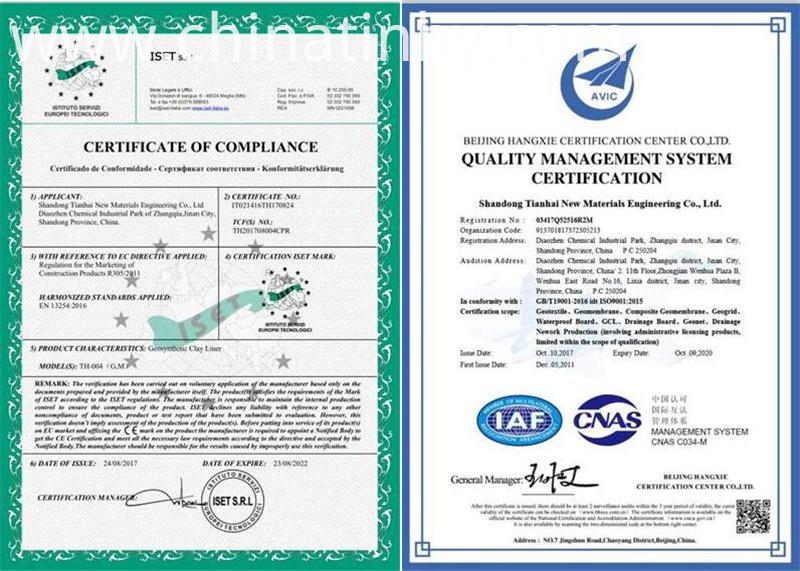 Over the years, the company was awarded [China Famous Brand"[Shandong Top Brand" and [Famous Brand of Shandong Province". CRCC railways product certification, CQC environmental protection certification, the European CE certification, three management systems certification and AAA credit rating certificate has been acquired.

Contact:
Service:
We are willing to supply good quality products and good service to satisfy customer's need!
Whether selecting a current product from our catalog or seeking engineering assistance for your application, you can talk to our customer service center about your sourcing requirements.
Looking for ideal Bentonite Geosynthetic Liners Manufacturer & supplier ? We have a wide selection at great prices to help you get creative. All the Geosynthetic Clay Liner Price are quality guaranteed. We are China Origin Factory of Geosynthetic Clay Liner Cost. If you have any question, please feel free to contact us.
Product Categories : Geosynthetic Clay Liner(GCL) > Geosynthetic Clay Liner